Ever feel like you're trying to give away a virus rather than answers to some of life's problems? It's crazy making isn't it. You feel so passionate about your business because you know it works. You personally have had some success. Your upline is wildly successful. You know this can put financial wealth and freedom within reach.
What gives? This business isn't really hard. All you have to do is make a list of everyone you know and go show them your product (it practically sells itself!). And then sign 'em up.
But if the above is true, that anyone can do this business, then ask yourself this:
Why it is so difficult sometimes to sponsor people into your business?
Why do so many who start a business have such a tough time getting into action?
Why is it so hard to keep those who do start a business in action?
Why is this so? Network Marketing does not deserve a bad rap. People do make money… lots of it. This business offers people an opportunity to have just about anything they want. You can fire your boss. You can own your life. It can be fun. But it's going to take more than a dog with a wagging tail or a simple three foot rule to get you there.
Corporate America, Yuk
The answer is simple and it won't be very popular. We don't tell it like it is. After nearly 20 years in network marketing and then another six years coaching the network marketing industry we believe those of us in the industry are responsible for our "not so stellar reputation" and it's because we don't tell it like it is.
Have you ever heard this from the front of the room:
"Start your home-based business today and fire your boss. It's fun. No more corporate America. Own your own life."
Is that what network marketing is, a get rich and do it fast deal? No more rules work when you want? Really?
As a business coaches our goal is to get you to think like an entrepreneur. But there is a huge amount of resistance because we don't want to be like Corporate America. Somehow the idea that running your home business like a real business translates into "being like Corporate America" and being like Corporate American is not okay. Beware of this. Be really careful," you don't throw the baby out with the bath water."
Here is the deal folks, you cannot tell someone network marketing is like a winning lottery ticket…it isn't, it's a business. What you can tell them is that it takes simple business foundations based on learning and fun to have the kind of life you want with network marketing. You can tell them they can jettison the jerks and the nonsense rules, but not business tools.
All businesses need good foundational business tools. All businesses. That includes knowing when you're going to show up for work and when the workday ends. Real brick and mortar business hours. The difference now; it is your business, you determine those hours. You also determine the hours you spend with your family – away from the business.
When we don't give our downlines these basic business tools we have chaos and since when is chaos a friend of business…or a desirable life?
For real success it's time to give up (constant

double tasking with the phone stuck to your ear. Or being like Pavlov's dog and answering the phone every time it rings. Think about that for a minute. Is the business you're in so life-threatening you need to respond immediately every time the phone rings? And yes, there are ways to create these boundaries without your team falling apart. In fact it will make it stronger. How attractive do you think it is to run your life around a ringing telephone? hmmmm
Interested in learning the very real, simple and sustainable Five Steps to Work Smart and Make Money in Network Marketing?
If you play all out you'll take your results to the bank!
FREE eBook
Get our free
21 page eBook: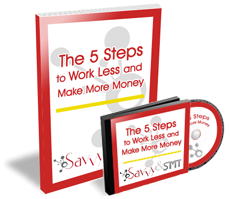 5 Steps to Work Less and Make More in MLM, Direct Sales and Network Marketing – Simple Ideas You Can Implement Quickly and Easily
Happy Campers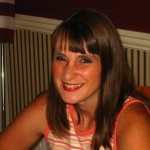 I would recommend the Power Prospectors course because I got valuable input and coaching that I can really use every day, every one can benefit from that if they choose...
Lori Krouth
League City, TX