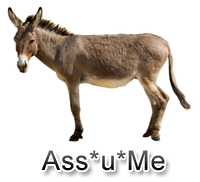 It's an interesting word 'assume.'  It can get us into trouble when we take for granted something without any proof.  Assumptions are beliefs.  Beliefs held without proof.  That can be problematic because our beliefs typically cause us to react or respond in certain ways.
Unfortunately, those responses are only appropriate to the belief IF the belief is founded.  When it's not founded , well, ahem, that often is the Ass*u*Me it makes of us situation.
How many times have you decided when someone wasn't there for an appointment  that they were not interested?  And then didn't call them back.
How many times have you left a message and did NOT get a returned call and assumed they don't want to talk with you?  So you don't call them again.  After all, none of us feel good about calling someone if they don't want to talk to us.
But you are murdering your business one unmade call at a time when you make these assumptions.  Here's an easy way to help put aside limiting assumptions.  Ask yourself, What Do I KNOW in this situation?  Then grab a piece of paper and write down what you DO know.
Chances are if someone made an appointment with you, they  had some interest.  You had a decent conversation.  In that conversation they told you why they were interested.  It won't be very often that you realize, oh, oh right here they said, "I won't be there for the call."
Your thinking that they are not interested, that goes on the 'feeling' side of the list, not the What I KNOW side of the list.
How do you want to run your business?  Strictly feelings or would you just like to stick to the 'facts mam?'  Feelings are important.  We don't want to get them hurt.  Often they are intuitive and need to be held in our consciousness.  But we also don't want to assume anything that keeps us from building our business.
Turn those assumptions into hypothesis and act according to what you know.   You'll get much better results.   Oh so much better.
FREE eBook
Get our free
21 page eBook: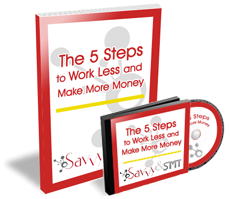 5 Steps to Work Less and Make More in MLM, Direct Sales and Network Marketing – Simple Ideas You Can Implement Quickly and Easily
Happy Campers

I am so excited about how my business has grown as a direct result of attending Jillian's course. Within 60 days, my sales activity had paid for her class. Putting...
Serena Chow
Clayton, CA