Your Team is Growing, You're Spinning Plates, You Need Systems…
Does that resonate with you? People are saying YES and your team is growing. It's exciting and it can be scary. How do you handle all the activity? Do you keep sponsoring or stop and get your new recruits trained? Do you feel confident getting everyone started?
Roller Coaster Emotions, Roller Coaster Income
When you sponsor you make money. When you STOP sponsoring to train, you make less money – roller coaster income (but you feel more sane). Yes, it's a lot of activity, but handle it you must. Sponsoring and putting new people in your pipeline is the lifeblood of your thriving network marketing business.
The Fix for Roller Coaster Income and Insanity
Systems. Systems allow you to keep your 'plates spinning' without you spinning out of control. The good news is you already have systems. Everyone does. You're using things that work. And, you're using some things that work less well.
FREE DIAGNOSTICS Snap Your Business into Laser Focus, Quick. A free set of diagnostic tools reveal exactly where you're strong and where you're not. You'll know just where you stand right now. You'll see what's missing that keeps you from attaining your goals. Would that be helpful?
We thought so. Fill in your details below to access a comprehensive set of Savvy Diagnostic Tools. They're free, they're fun and they'll give you insight. Build a thriving business – sanely.
Talk to Us. Have questions? We want to hear them. We want Savvy to be your 'go to' site for coaching, tools and the info you need to grow a lucrative business you love, so reach out and get to know us.
You're a team leader. You need to have a Vision or everyone who is following you is lost too. Don't be lost. Download our Savvy Diagnostic Tools now, by filling in your detail above. Get a handle on your business. Give us a call, we want to talk to you.
Jillian can be found sitting by the Atlantic at: 781.599.0604
Amy can be found sitting by the Pacific at: 360.357.0859
FREE eBook
Get our free
21 page eBook: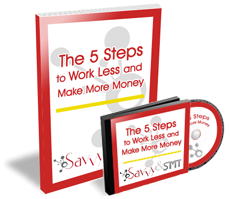 5 Steps to Work Less and Make More in MLM, Direct Sales and Network Marketing – Simple Ideas You Can Implement Quickly and Easily
Happy Campers
I definitely had to overcome my fear to take a course. A lot of fear. I just didn't trust myself enough to believe that I would follow through on the...
Amy Lane
Kent, WA