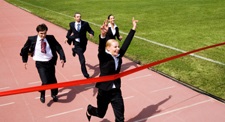 What does Success Look Like in Network Marketing?
Walking across stage as a High Earner Star Ship Commander in your company
Finally, making that last promotion to qualify to walk across The Stage For The First Time
Watching your team duplicate you
Honing your 'getting started' training for duplication
Being accountable to YOU for what you did or didn't do  


Having a great six months 


Having a great quarter  


Having a great month
That Last Step IS Your First Step
One hour in your business (just one per day) that is totally focused on solid money making activity is the first step to walking across the stage as a bona fide leader in your company.
Just one hour per day.
A damn good hour in your business every day  —   Is the first step to everything.
Does the idea of a great hour (each day) doing money making activity make sense to you?  How do you make that happen?  Please join the conversation here or on Facebook.  
FREE eBook

Get our free

59 page eBook:

The Savvy 5 Steps to Your Six Figure Income

Happy Campers

Hi, my name is Carol Barrett. Prior to being part of the Savvy Sponsoring Leadership Program I wasn't sure what to do to teach my team members how to...

Carol Barrett
Springfield, PA