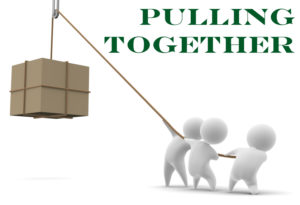 We talk a lot in this business about how difficult it is hearing 'NO.'  But I assert that the really tough thing is saying 'NO.'
Saying NO means you keep your boundaries.  Saying NO means you keep your eye on what it means to build your business while you help others build theirs.
Did you notice that 'build' in both of the above sentences is a verb.  Build is an a-c-t-i-o-n word.  It is activity that produces results.  Positive or negative results, but results.
Thus:
If you're building your network marketing business, you are:
(1) Talking to new people to fill your pipeline or
(2) Following up with people in your pipeline.
If you are helping someone on your team build their network marketing business, you are:
(1) Helping them to speak to people in order to fill their business pipeline or
(2) Helping them follow up with people in their pipeline.
YOU DON"T HAVE TIME to beg, plead, or pull them over the finish line.  You and your recruit are building together.
Being a sponsor means that you teach people your business system.  Your job is to train them to use the system that brings success.  Their job is to Practice and DO in order to learn and build their business.  (If you don't have a good business system, call me for help!)
Ask any seasoned leader what they would do differently if they knew 'then' what they know now, and they'd say some rendition of this:
I'd work with the willing ….
If you truly want to build your business, fulfill your why and help others to do the same, take that insight to heart.  Now.  Not. Later.  Everyone Pulls Together.
FREE eBook

Get our free

59 page eBook:

The Savvy 5 Steps to Your Six Figure Income

Happy Campers

I've learned great new techniques and have built custom scripts, with your help. I really appreciated having the recordings after the calls and all the materials including the scripts and...

Pat Staude
St. Peters, MO