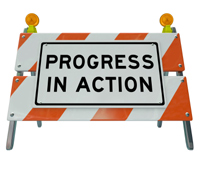 Tell Me Please!

Yesterday a bright, young college graduate said to me, I've solved my calendar issue.  I got a 'real' calendar.  I'm not messing with my phone calendar anymore.I was intrigued.  Immensely!  I had in front of me a bright person who'd struggled with his calendar – and he's solved the problem.  "Tell me please," I said.
It's great.  I decide what it is that I want to do – write it down.  Then I decide what the steps are to get it done.  Now I have a plan.
Baited Breath
I waited with baited breath to see what was next.  No next.  When I asked if he'd decided when he was going to start the project, his answer was 'sometime this week.'  Alas.
This very bright young man had mixed up a project planner with a calendar.  A project planner is a great tool.  It breaks things down into workable steps.
A calendar puts the steps into action.  You need both to get things done.  When I mentioned this to him, he sighed and said,
Yeah, then you have to look at the calendar multiple times a day.
Bingo
That's Progress in Action.
FREE eBook

Get our free

59 page eBook:

The Savvy 5 Steps to Your Six Figure Income

Happy Campers

I am so excited about how my business has grown as a direct result of attending Jillian's course. Within 60 days, my sales activity had paid for her class. Putting...

Serena Chow
Clayton, CA