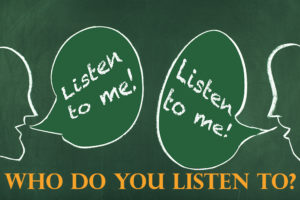 Decisions are Tough

If network marketing dispenses anything freely, it is information.  That's problematic, since time is your limiting factor.  You must make decisions.
But decisions are tough.  When you decide, it means you are going to do far fewer things than you may want to do (or that may be on your ToDo list).  Time is finite.
Corporate says, 'listen to me.'  Your upline says, 'listen to me.'  Crossline's shout, 'listen to me.'  In network marketing there is a (live) call you could listen to just about any time of the day.  How do you decide?
What Do Great Calls Do?
What do you want from the calls you listen to?  And by extension, what do you want your team to get out of the calls they listen to?  Are you looking for:
Product Information?
Inspiration?
Practicality?
Money Making Practicality
If you coach with me, you know what I think.  Practicality wins hands down.  No money is made in your business, until someone actually has a conversation with someone.  If your recruit is going to take precious time away from money making activity in her network marketing day to listen to a call, what do you want her to come away with?
Here's what I know about product information.  If you don't know it, read it along with your new customer or recruit from your website.  You don't need to know everything about your product.  You need to know where to go for the information.
What is Your Best Inspiration?
Yes, inspiration is important.  The best dose of inspiration is to read your 'Why.'  Read it – Every. Day. 

What is it that caused you to commit to 5, 7, 10 or (?) hours of your life per week to your network marketing business?  What you wanted to fix.  Your 'Why."  Read it every day.  Read it a couple of times a day.  It will inspire you and motivate you to keep on track.
What Makes Money
That leaves practical.  Why should you spend most of your 'call time' on practical coaching calls?  'How to' skills (real, 'how to' skills) are the propellant, the juice, the provocation and the encouragement to talk to people.  Good solid practical skills build strong foundations.  Solid foundations build businesses that thrive.
What do Practical Calls Sound Like?
What does a practical do?  Practical calls tell you not only what to do – BUT EXACTLY HOW TO DO IT.
If you don't get off the call knowing:
Who to call
What to say
When you're going to say it.
What you want the person you're talking with to do
When is your follow-up appointment
That call is missing the backbone of your business.  You may have been able to listen to it while you were washing the dishes, but it probably didn't move your business forward.
If you want solid, practical help with those (Savvy) 5 Steps, look to the bottom of this page.  Get your complimentary Savvy 5 Steps to Your Six Figure Income.  It's no trick, but it will do the trick.
Does this make sense to you that where you spend your time should be in 'How To' practical calls?  Let me know here if this was helpful or join the conversation on Facebook.
FREE eBook

Get our free

59 page eBook:

The Savvy 5 Steps to Your Six Figure Income

Happy Campers

I am so excited about how my business has grown as a direct result of attending Jillian's course. Within 60 days, my sales activity had paid for her class. Putting...

Serena Chow
Clayton, CA