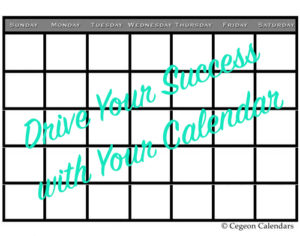 Monday Morning Magic!
It's Monday, and you made the calls you said you were going to make.  How do you feel?  Terrific!  You accomplished what you planned.  You took control of your day and your business and more importantly Your Future.
Then the rest of the week goes to blazes.  Why?
Are you like this client?
On Monday your calendar says prospect at XX time.   So what do you do?  You prospect because your calendar said to.
But Tuesday (and the rest of the week) you didn't get around to filling out your calendar.  So you did what you're calendar said …  Nothing.
What's wrong with you?
There is nothing wrong with you.  That said, your habits leave something to be desired!  J
Here's the solution.
Three easy steps:
(1)  Decide how many calls you want to make.
(2)  Decide when you want to make them.
(3)  Then take charge and …. WRITE DOWN IN YOUR CALENDAR who you are calling and on what day and at what time.
Should You Plan Weekly or Daily?
If you don't plan your weekly calendar at the beginning of the week, then before you close up shop plan your tomorrow.  Here's how to plan YOUR tomorrow.
About a half hour before you quit for the day, log the time in your calendar to plan tomorrow's calendar.
Set an alarm to remind you to clean up what you're doing in order to spend the last few minutes of your day planning tomorrow.  If you do this regularly, you'll build the habit.  That will save your bacon.
Details! Those Damn Details
Oh those details.  Make time.  Set alarms.  Check your calendar.
Do you know the details are where the miracles live?  By the way, that's also the place where success hangs out!
What do you think?  Does this make sense?  Try this and let me know how it goes here or join the conversation on Facebook.  If you have questions ASK ME and I'll get back to you.
FREE eBook

Get our free

59 page eBook:

The Savvy 5 Steps to Your Six Figure Income

Happy Campers

I have made more calls since I started coaching than I have in my entire network marketing career. When I signed up, I was very nervous, I actually had...

Melissa McAnelly
Houston, TX