Receive the Hottest
Network Marketing Newsletter
in the Business
Your no-obligation subscription gives you access to ACTIONABLE tools, plus tips and ideas you can use to build your business NOW.
To-the-point, quick to read, easy to understand and implement.
The Savvy Network Marketing Newsletter will arrive in your inbox every Saturday morning chock full of information you can take to the bank.
Don't miss an issue – sign up today.
PS: If you don't think we deliver the right stuff, although we will miss you,
you can always unsubscribe.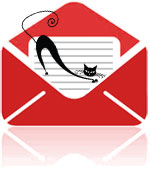 Send Me HOT, Use-it-Now
Business Building Info
FREE eBook

Get our free

59 page eBook:

The Savvy 5 Steps to Your Six Figure Income

Happy Campers

I've learned great new techniques and have built custom scripts, with your help. I really appreciated having the recordings after the calls and all the materials including the scripts and...

Pat Staude
St. Peters, MO